After really taking to the XR50, Pax has come to realize (along with the rest of us) that he's really too big for his XR50, so we did some Craig's List searching and found a 2005 Kawasaki KLX110. It's in great shape and we got it for a pretty good deal, not amazing, but not bad either.
Paxton has really taken to it. He loves it and he hasn't been intimidated by it at all. I thought the bigger bike might have him intimidated, but he hopped right on it and took off around the seller's yard and he rode around our culdesac for about 30 minutes just grinning the whole time. He's doing great and I can't wait to get him on a track and some trails to see how he likes the new ride. Power-, handling-, suspension-, and ergonomics-wise, this is a much better bike for him.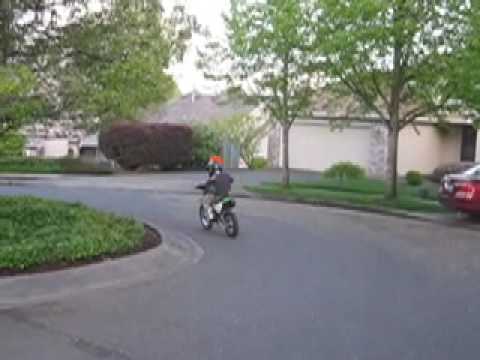 I've had quite a bit of fun putzing around on it too. I was going to keep the XR50 and turn it into a pit bike, but now I'm starting to think that this might make a better pit bike once he outgrows it. We'll see. I'm keeping the XR50 for now, at least.