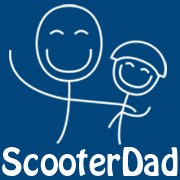 This article originally appeared on ScooterDad.com and has been reposted here for posterity.
Introduction
When my step-son Paxton was 3 years old, his mom got him a Spiderman skateboard with a T-handle attached to it. It was somewhere between a skateboard and a scooter. We had no idea that we'd be so involved in the scooter world, but we are because it's his true love and passion. We do everything we can to support him, often to the detriment of our own wallets and free-time, but it's all worth it to see how happy scootering makes Paxton.
We've come a long way since that Spiderman skateboard/scooter-thing and we've learned a lot along the way. Some of it we compiled from resources online. Some of it we learned from talking to other people. A lot of it we learned from trial and error…and more error…a lot of errors. There are a some homegrown resources for scooter kids online, but very few resources are parent-focused. The older kids are more independent and self-sufficient, but many young up-and-coming scooter riders have parents who want to be involved but don't know where to start.
My goal is to provide valuable information to parents, as well as kids, to ease some of the bumps along the road on the journey of freestyle scootering. Whether your kid is just starting out or already has aspirations of being a pro scooter rider someday, the ScooterDad blog will be a positive, fun, family-safe resource many people can utilize.
The Scooter Kid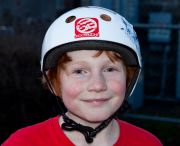 Paxton Swygard, my step-son, has been riding scooters since he was 3 and has been competing since the spring of 2010. He rides for the Phoenix Pro Scooters Flow team. Before riding for Phoenix Flow, Paxton was part of the Lucky Pro Scooters and NW Scoot Lil' Lucky team. Paxton has had success in the beginner and intermediate divisions.
When he's not scootering…well, he's pretty much always scootering. He also likes playing XBox360, watching YouTube, and jumping on our trampoline to practice scooter tricks.
Paxton's dream sponsor would be Otis Spunkmeyer Cookie Dough and Root Beer.
For full event results, videos, and other information about Paxton, check out his website at PaxtonSwygard.com.
The Scooter Dad (Author)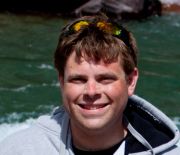 My name is Kenny Carlile and I'm the creator and author of this site. As a web developer by trade, I'm pretty involved in internet technologies, and since I'm not a welder, a scooter-related website seemed like a more easily attainable contribution to the scooter industry than another deck company. While most of this blog will be written from my personal perspective, the experience is a collective one that my wife (Paxton's mom) and I have gone through together over the last few years.
My family includes Paxton, my beautiful and wonderful wife, Dena, our 2 Boxer dogs, and 3 cats. In addition to chasing Paxton around skate parks, I have helped Korey Keir and NW Scoot run three competitions, I do skate park photography and videography for several local riders, and I fix and build scooters for kids when I can't find a way out of it. I also like to play guitar, ride off-road motorcycles, and play XBox360.
Notes
I will be writing the articles on this blog from my perspective from what I have learned and discovered along the way. If you disagree or if you've found a better way to do something, then I'd love to hear your feedback in the comments. Don't assume that I'm saying that you have to do something a certain way. These are just the best practices I've discovered from my experiences with my scooter kid. Every parent and every kid will face different obstacles and travel a different path, so do what works best for you.
For convenience, I may often refer to a hypothetical scooter kid as "he", but this does not mean that I expect all scooter kids to be boys. You can assume that each time you see me refer to "he" or "him", I really mean "he or she" and "him or her" respectively.
I want to keep this blog family-safe so that parents and kids alike can read it. As much as I am for free-speech and against censorship, I may alter comments to keep a PG-13-ish feel to the site. I may also delete comments from time to time if they appear to be spam, intentionally hurtful, or otherwise inappropriate.
Advertising
We are currently not accepting advertising.