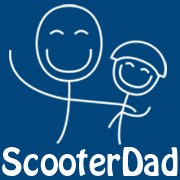 This article originally appeared on ScooterDad.com and has been reposted here for posterity.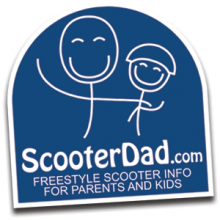 Find me at a skate park or event and get your own free ScooterDad sticker!
---
If you've been to a skate park in the Portland, OR area, you may have seen some scooter kids proudly rocking the new ScooterDad sticker on their scooter and/or helmet. I'm really excited to have our stickers to share with friends both new and old. It's a lot of fun to glance over and see a scooter kid ride by with a ScooterDad sticker, especially when so many kids have been so encouraging and supportive.
The stickers are great quality thanks to the fine work of Justin Wharton at JJW Designs. The design is fun and people really seem to like them. Most importantly, we're really thankful and appreciative of everyone who have been so supportive and helped get the word out for ScooterDad.
If you'd like a free sticker, look for me or Paxton at skate parks and events around the Northwest. Be sure to check out Justin Wharton's new clothing company 110% Clothing.