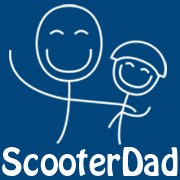 This article originally appeared on ScooterDad.com and has been reposted here for posterity.
When he's not designing graphics or his own clothing brand, you can find Justin at the skate park on his scooter or at the motocross track riding one of his motorcycles. If you still can't find him, he's probably trying to score a phone number from your girlfriend, wife, sister, mom, aunt, grandma, or babysitter. ;o)
---
Justin Wharton of JJW Designs and 110% Clothing is a friend of mine and he recently agreed to help me out with the site by answering some questions for our first interview. As a rider, company owner, sponsor, and someone involved in the industry on many levels, Justin has a unique perspective on the freestyle scooter world. If you run into Justin at a scooter competition or a skate park, be sure to say hello. He's a friendly and supportive guy with integrity and we need more people like him in the scooter world.
Hey Justin, tell me about your freestyle scootering background:
I've been riding for little over 2 years now. I've done a lot of motocross and BMX in the past, but when I moved my business into Battle Ground, I ended up just a few blocks from their brand new skatepark. So after a few lunch breaks over there, I noticed a couple guys riding some razors out there and I was like….man! I have to try that, I didn't know you could do tricks on a scooter! I went out and bought a couple Razor A models, and took it from there. I started to get more and more into it, hit my first comp at Truckstop in Bend, and then I was hooked.
What are you currently riding?
I like to switch it up a lot, but my current ride is a District V2 deck, Cane Creek headset, ZG bars with Animal Edwin grips, Blunt fork, Blunt 100mm blue/black wheels and some leftover JJW Silk7 bearings.
Where do you ride and who are your scooting buddies?
I ride a lot at the Battle Ground Park, it's not totally my style of park but it's big, clean, pretty fun and only a couple blocks away. I also like hitting Woodland, Sandy, Swift (aka VNC), and RipZu when it's raining. It's a bit of a trip, but Hood River and Kennewick are awesome parks. I don't sesh a lot of street but can be talked into it from time to time.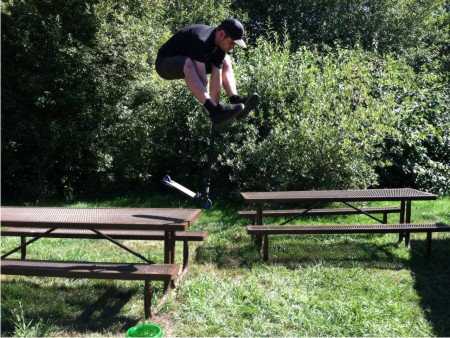 What are your best tricks and what are you currently working on?
Well I've really been into supermans and fingerwhips lately, so probably either bar-feeble-fingerwhip, or superman triple whip. I'm really trying to land a x-up-heelclicker to whip. We'll see.
Who is your favorite rider to watch and what do you like about his style?
I'd have to say John Radtke. The guy has just sheer natural talent and can shred it up no matter where he's at.
You were involved in sponsoring riders through your JJW Designs graphics company, but now you have 110% Clothing and a team of riders. Who is on your team and what is your vision for that team and your company?
This is a clothing project that encompasses the idea that no matter what you do, you always have a little more left inside of you that you just need to tap into. Always pushing who you are and what you can do, giving 110%! The clothing line is very fresh and still getting off the ground but has been greatly accepted and I'm very happy with our growth. Currently on our NW team is Matt Thompson, Steven Riffner and myself. Then the California crew is Cody Speake and Jake Pellegrini. I have been talking to a few more guys and might get another crew going here too, but no names yet. ;)
What advice do you have for young riders just starting to get involved in the freestyle scooter culture?
First would be to ride for the fun of it. This is not a competition of who can get the coolest parts. This is about going out and riding for the fun of riding. And secondly, don't get discouraged. Just because you can't flair triple whip doesn't mean you're going to be looked down on. Everyone starts somewhere, so just go out, do your thing, have fun and don't quit just because you think you're progressing too slow. Everything takes time.
What are the first 5 tricks that you recommend new riders learn?
Start with the basics. Too many riders try to jump out and try briflips and twizzlers. If I had to pick 5, I'd say start with manual, feeble grind, tailwhip, no footer and then start trying barspins.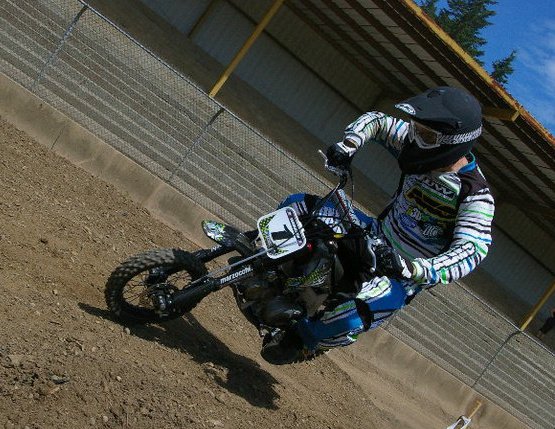 What do you think parents can do to help support their kids who want to pursue competing in freestyle scooter events?
Just be supportive, don't let them become too discouraged, and make sure they're always having fun. If you're not having fun in a sport, then why are you still in it? And actually go out with them to the parks once in a while and watch and maybe help film or take pics. Your kid probably doesn't want you hawking over his shoulder every moment but they'd like to see you're showing interest in what they can do.
I know that you're currently focusing on 18 and older riders with 110% Clothing, but what advice do you have, in general, for kids looking to get sponsored?
Hitting comps is a great start, and of course placing well, which requires a lot of practice, getting your tricks down, learning how to put together lines etc. Putting out videos, or "edits" is another great start. This will help you create exposure but beyond that, just ride, keep trying to get better, be respectful of other riders (scooter or not), and try to be a positive influence. Once you feel like you are at a level where you can help a company promote a product and are up doing what is required of you, contact a few companies and just politely ask if they have any current sponsorship opportunities and if so…what could you do to show you're ready to help them?
Do you have any tips for maintaining scooter hardware?
First would be if you have a bolted pro model, make sure you use the correct lengths of bolts, don't use something 1-2" too long in there. Ask me how I know….took about 9 stitches. Also….grips. I saw a kid lose his grip and faceplant onto a ledge once. Make sure you're grips are on tight. Before putting on grips I spray the inside with just a rattle can of paint, then slide them on immediately. Let sit about 20 minutes, and you're good to go. Super simple and easy. Other than that, just stay on top of everything and make sure it stays tight.
[Keep reading for more of the interview after the video.]
There is a lot of talk about street vs. park riding. What are your thoughts?
Ride whatever you have the most fun at. I don't think one's more legit than another, albeit street riding does demand more creativity. But if you're a park rider, cool. Nothing wrong with that and I get tired of hearing smack talk about street riders not respecting park riders. Ride what you like to ride, have fun while you ride and do it for yourself, not others.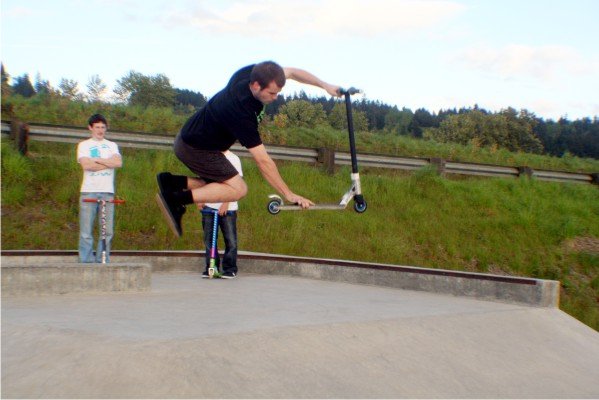 How do you think scooter riders can better represent their sport to the rest of the world, including bikers, skateboarders, etc.?
Well right now you're fighting the image that scooter riders are kids on WalMart scooters, snaking everyone at the skatepark. I think a lot of new riders should learn some basic skatepark etiquette before going out and riding and that'd be a huge help. Other than that, I don't think we have anything to prove. Just go out and ride!
Thank you for your time, Justin! Any parting words?
Not much really, thanks for the interview and good luck with the site!
Thanks again for your time, Justin! You can find out more about Justin's companies at the following links: