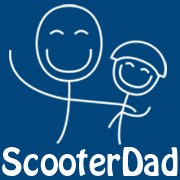 This article originally appeared on ScooterDad.com and has been reposted here for posterity.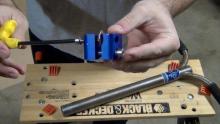 A penny is the cheapest tool you can keep in your scooter toolbox!
---
It can often be difficult to get a clamp and bars to fit together if the clamp is a tight fit for the bars. You don't want to use grease to make them fit together as it will be difficult to get a secure fit later on after you tighten everything. The best method for expanding your clamp for easily fitting it on to your bars is to use the penny trick.
The method outlined below will work for standard clamps, HIC clamps, SCS clamps, and it might even work with the Phoenix iHIC bars/clamp system, but I haven't had a chance to try it out with those yet.
As always, use T-handle allen key wrenches rather than L-shaped allen keys. You can buy a full set of T-handle metric allen keys for less than $10 at Harbor Freight and I highly recommend that you do so.
Safety Note
Be careful not to pinch your fingers in the clamp throughout the process listed below.
WARNING
The following instructions describe a potentially dangerous procedure and should not be performed by children or anyone not comfortable with tools. If you are a kid, have a parent do this for you. Improper use of tools could result in severe injury. Always follow tool instructions and wear safety equipment.
Please read all of these instructions and watch the video before attempting this technique.
What You Need
In order to expand your clamp using this method, you'll need a few things:
Bars
Clamp: standard, HIC, or SCS as this trick works for any of these
A regular ol' penny or similar coin, although a fender washer can also work
T-handle allen key wrenches of various size, such as these: http://www.harborfreight.com/10-piece-t-handle-metric-hex-key-set-37862.html
How To
Here's how you can expand your clamp using the penny trick, also shown in the video below:
Take a 5mm T-handle allen key and loosen your clamp's bolts until they are barely held in by the threads.
Completely remove one of the bolts from your clamp and insert it in the opposite side of the clamp so that it goes through the threads first.
Thread the bolt into the clamp until you can see the tip of the bolt in the gap of the clamp.
Insert the penny into the gap of the clamp. Use your thumb on the inside of the clamp to ensure that the penny doesn't fall into the clamp which would prevent your bars from sliding freely through the clamp.
Tighten the bolt against the penny which will prevent the bolt from going through the other side of the clamp and force the clamp to expand.
Check your clamp with your bars and see if you have expanded your clamp enough for the bars to slide freely. Be careful not to expand the clamp too far which could result in damage to the clamp.
Position your clamp on your bars with the gap in the clamp aligned with the slit in your bars. The slit alignment doesn't apply to SCS clamps.
Back the bolt out until the penny falls and then remove your bolt and re-install it on the proper side.
Check for alignment one more time and re-install your bars on to your fork. This process is slightly different for SCS clamps, but it is similar.
Lincoln Would be so Proud
Keep a few pennies in your toolbox and show this trick to your friends. While many people know about it, I'm always shocked by how many don't know this trick.
Good luck and have fun!