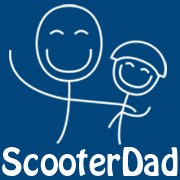 This article originally appeared on ScooterDad.com and has been reposted here for posterity.
Disclaimer: All ScooterDad reviews are unbiased opinions. While reviews are previewed by product suppliers for factual accuracy in statements about products, the opinions are not influenced. The product in this review is tested, reviewed, and then donated to a needy rider selected at a local skate park. Paxton Swygard, scooter kid, does not ride for Fuzion, but he has helped provide a rider's perspective in this review. Paxton is a 14-year-old intermediate-level sponsored competitive rider who rides both park and street.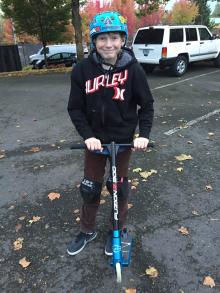 The Fuzion Z300 Pro complete scooter is a great, all-around freestyle scooter for the price, but the deck is the standout feature.
---
When Fuzion first asked me if I'd like to review their new Fuzion Z300 Pro complete scooter, I was eager for the opportunity. For some reason, we don't see a lot of Fuzions around the Pacific Northwest, so I was glad to get my hands on one to check it out and I was happy to get it in front of other kids at the local skate parks.
Fuzion and I worked out a deal to donate the demo scooter to a deserving kid at a local skate park following the review, so that sealed the deal. Although the Z300 also comes in black, I asked for a blue scooter because I thought they looked flashy and cool. Sure enough, just a couple days later I found a package on my doorstep.
Packaging and Product Presentation
Upon opening the box, I found that the scooter was very securely packaged for safe shipping and only required minimal assembly. Fuzion provides the allen keys to install the bars and work on the axles as necessary. The photo of the bars looks like they are bent, but that's just image distortion. The bars were perfectly straight.
Initial Impressions
After opening the Z300, I was immediately struck with how good this scooter looks. The wheels are bright and contrast nicely with the black and blue components. The deck is absolutely gorgeous and the graphic on the grip tape is a nice subtle touch. The bearings and the headset were all smooth and solid. The sticker graphics on the deck and bars are classy and well designed, although they look like they might not last forever. Did I mention this deck is gorgeous?!?! I love the color, the finish, and the lines on this deck!
My only criticisms on the scooter after unpackaging would be the design of the fork and the upper part of the bars. The fork felt solid, but I wasn't terribly impressed with the design or the cleanliness of the welds. All of the other welds on the scooter look great, so the fork is definitely the exception on the scooter. The nipple and the gussets on the bars are not my favorite, but I didn't hate them either. For what it's worth, none of the kids who saw the scooter noticed the welds on the fork, but some mentioned that they didn't love the upper part of the bars.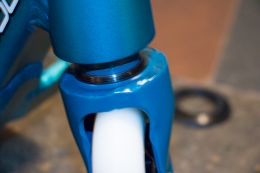 Product Specifications
Here's what Fuzion has to say about the specifications of the Z300 on their site:
Description
Here's why we're so excited about the all-new Z300 Pro Scooter – It's the mid-level pro scooter that riders have been clamoring for. This scooter bridges the gap between our ultra pro Z400 and the intro Z250. Featuring the innovative Dog-Bone Deck concave deck design originally introduced with the Z400. This Dog Bone design is one light and tough deck, ideal for fast smooth grinds.

The Z300 is a great all around complete scooter for street and park riding. This scooter is competition ready right out of the box. It weighs just less than 8 pounds and is designed for high speed and high impact riding, and can handle any skate park or street obstacle.

Features
TG-6061 Aluminum Deck & Neck (19.5" x 4.25")
110mm PU & Cast Aluminum Wheels
Steel Lightweight Fork
Sealed Headset Bearings
Chromoly Bars (20" x 21.5")
Triple Headset Clamp
Flex Style Break
HIC Compression System

Specs
Skill Level: Intermediate
Deck Style: Dog-bone Deck
Model #: F0824
Wheels: Cast Aluminum & PU
Box Dimensions: 25.5" x 18" x 4.75"
Frame: Aluminum
Product Weight: 7.9 lbs
Max Weight: 220 lbs
Product Dimensions: 26.77" x 30.71" x4.25"
Age: 8+
Ride Test
My kid, Paxton Swygard, tested the Z300 at two parks and while street riding. He gave the scoot a thorough test, even choosing to ride it over some of his other scooters at times without my asking. It held up to everything he threw at it with his only complaint being the weight. He said it felt a little heavier than his other scoot. He also said the bars were a little shorter and narrower than he'd like, but he's pretty tall for his age and rides fairly wide bars. I don't think anyone in the target market for this scooter would have any problem with the bar height or width and it certainly didn't stop Paxton from doing any tricks. From grinds to big air, the Z300 performed great and Paxton enjoyed riding it.
Just about everyone that saw the Z300 commented on how great it looked. Most people didn't have the same concerns I had about the fork. However, those that did notice the fork stated they would prefer to upgrade the fork at some point.
Maintenance Test
There really isn't much to report from the maintenance perspective. As a parent who works on scooters for my kid and his friends, I see a lot of issues with scooters and parts. After putting the Fuzion Z300 together, I never had to perform any maintenance on the scooter throughout the testing process, which was quite a relief. I will say that the clamp takes a little extra patience because of the opposing bolts, which requires small adjustments to each side to ensure even clamping. It's not a big deal at all, just something worth noting since most clamps have the bolts facing the same direction, although you still want to tighten the bolts a little at a time on these as well.
What We Like
Deck…everything about it!
Wheels look and feel great
Integrated headset
Dialed!
HIC compression is easy to use
Looks great!
Concerns
Fork lower style and weld quality, thought it held up fine during testing
Upper bar design, but build quality is good
Bars are a little heavy due to gussets and being oversized for HIC
Overall Impression
Fuzion lists the MSRP at $179.99 with a street price of $119.99, which I think is a fantastic deal for what you get with the Z300. Honestly, the deck, brake, and headset alone are probably worth that much. This scooter would be a fantastic investment for a beginner to intermediate rider. The deck could even make a great platform for a pro rider. It uses industry standard components, so it should be easy to upgrade and replace parts later on. If your scooter kid is asking for a new complete, the Fuzion Z300 should definitely be on your list of scoots to consider.
Product Donation
Per my deal with Fuzion, following the review, we gave the demo Fuzion Z300 Pro scooter to Harris Capito who we met at a local skate park in Newberg, OR. He wanted a scooter to ride with his friends, but he didn't have one. He greatly appreciated the donation from Fuzion. Thanks to Fuzion for providing this scooter for review and to help out a kid who could use one.