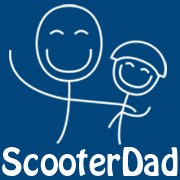 This article originally appeared on ScooterDad.com and has been reposted here for posterity.
Disclaimer: All ScooterDad reviews are unbiased opinions. While reviews are previewed by suppliers for factual accuracy in statements about products, the opinions are not influenced. The product in this review is tested, reviewed, and then donated to a needy rider selected at a local skate park. Paxton Swygard, scooter kid, does not ride for Chilli, but he has helped provide a rider's perspective in this review. Paxton is a 14-year-old intermediate-level sponsored competitive rider who rides both park and street.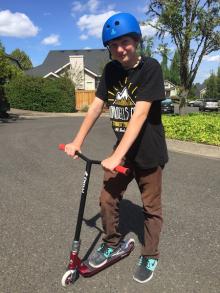 The Chilli Pro 5200/50 cm SCS Complete is a welcome addition from our friends in Europe, featuring a great freestyle scooter platform.
---
I've been hearing about Chilli scooters for a few years from our followers in Europe, but I didn't have any direct exposure to their products until just recently. I was contacted by RC Sports (a distribution company in Kansas City, KS) who is now stocking Chilli scooters. RC Sports asked me if I would be interested in doing a product review and I jumped at the chance to get my hands on a Chilli scooter.
Per our usual deal, we agreed to donate the demo scooter to a deserving kid at a local skate park following the review. RC Sports quickly shipped me a Chilli Pro 5200/50 cm SCS red silver and we began reviewing right away.
Packaging and Product Presentation
The Chilli Pro 5200 comes in a nice, clean box and it's packaged well, but not to the point of being frustrating to open. You get the basic tools required for assembly and it goes together quickly by just installing the bars. When opening the box, the gorgeous metallic red deck will be the first thing that strikes your eye. It really is stunning (Note: the scooter stand in the photo is not included; I just used it to hold the Chilli in pace for photos.)
Initial Impressions
To be completely honest, I was shocked by the build quality and appearance of the Chilli Pro 5200 scooter. That's unfair of me because I had no reason to think it would be bad, but I was pleasantly surprised. This thing is solid. It's a pretty close-to-perfect blend of stout construction paired with delicate design to keep the weight low. (I explain below why I say "close-to-perfect" with regard to the fork and SCS clamp.)
My kid had a few friends over when I opened the box and they weren't too interested at first; they've seen a lot of scooters. But, when I pulled out the Chilli to photograph and assemble, they came over to check it out as soon as they saw it. Everyone was impressed. It's rare and different enough that it draws the eye of even seasoned scooter riders.
We went over the scooter part by part, taking a close look and discussing what we found. There was some concern over the bulkiness of the fork and the SCS, but that was mostly in regard to appearance as no one ever made significant complaints about the weight when riding the Chilli. Everyone commented about the bars and how they resembled some of their favorite bars from another company. Whether the styling was intentionally trying to mimic other popular bars or not, Chilli has given the Pro 5200 some highly desirable bars.
I was very impressed with the Chilli, but I did have a few concerns. First, I'm not a fan of white urethan wheels. They look great right out of the box, but they get dirty fast and don't look great in the long run. That's just a matter of opinion though. Second, the fork and SCS clamp seem to be a little too beefy for the styling of the scooter as a whole. Again, this seems to be mostly visual, but it seems like they could have styled them to be a little more sleek and saved a few ounces in weight. Third, the grip tape had some issues sticking in a few places. This is a pretty nit-picky criticism, as a lot of new completes have the same problem, and riders often replace grip tape fairly quickly anyway.
Product Specifications
Here's what RC Sports and Chilli have to say about the specifications of the Chilli Pro 5200/50 cm SCS Complete on their site:
Specs
Deck made from 7075 aluminum (50 cm x 11cm)
XL T-bar made from 4140 CrMo steel (58 cm x 58 cm)
One piece fork made from CNC forged 7075 aluminum
Four-bolt clamp made from CNC aluminum
110mm wheels with a hand casted CNC core, ABEC-9 bearings, 90A hardness
Short flex brake
SCS system
Only 7.7lbs
Ride Test
My kid, Paxton Swygard, tested the Chilli Pro 5200 at a couple parks, a few street spots, and a small rail in front of our house. We even traveled with it up to Washington for the Subway Washington Game, hitting parks along the way. He liked the feel and never complained about anything related to form or weight. He said that the headset was "smooth and buttery." In fact, several riders had very positive things to say about the headset. Collectively, it was considered the scooter's best feature: the headset is very, very good.
Riders (Paxton and his friends) also liked the deck and bars quite a bit, although some would prefer to cut them to their desired size. They liked that the scooter came with SCS and they never said anything about losing grip with the wheels, which I expected when we rode a park known for dirty concrete.
We had several people ask what kind of scooter it was that we were testing. Some had heard of Chilli and some hadn't, but they were all interested to see it and impressed with what they saw. I think the beautiful finish on the deck really helped make this scooter stand out. I should note here that the Pro 5200 also comes in "bronze and black," which looks great as well, but it's not as stand-out as the red and grey color combination, in my opinion.
We didn't have any part failures and Paxton didn't express any limitations with the scooter. So it definitely passed the test on keeping up with an experienced rider who relies on durability and performance to execute advanced tricks. 
Maintenance Test
Throughout the demo, we never had to do any significant maintenance on the Chilli Pro 5200/50 cm SCS Complete. I think I tightened the compression once after a few hours of riding, but that is common with any new scooter as the headset seats completely. This is a testament to the design and build quality of this product.
What We Like
Great bars that remind us of some very popular bars from down under, mate! ;)
Low-profile, boxed deck
Wheels look and feel great
Integrated headset
Solid platform
SCS compression is is top notch!
Awesome metallic finish
Concerns
The fork is solid, but it might be a little too beefy and heavy compared to some others in the same class.
The grip tape had some issues staying down and it's a little thin, but this is common among completes in this class.
Similar to the fork, the SCS is beefy, but might be a tad heavy compared to some other baby SCS models.
Overall Impression
With a MSRP price of $249 and a street price of $229, the Chilli Pro 5200/50 cm SCS Complete is not a beginner scooter, but the name even states that it's a pro model. I would put this scooter up against any Grit or Crisp scooter that I've seen and I think the build quality is superior to several other scooters in this price range. Plus, for now, you'll be riding a scooter that most people in the US have never seen, so there's a WOW factor that comes with it.
This scooter can be a great platform to customize or to ride as-is right out of the box. Riders of all skill levels will appreciate its design and quality for park or street riding.
Chilli is coming to the US with serious contenders in the scooter market, and I think we'll see a lot more of them in the near future.
Product Donation
Per my deal with RC Sports, following the review, we gave the demo Chilli Pro 5200/50 cm SCS Complete scooter to Keyvaun Eady - a local rider from Tigard, OR who is just getting back into freestyle scootering. He helped during the demo process and loved the Chilli scooter. Thanks to RC Sports for providing this scooter for review and helping out a kid who needed one.