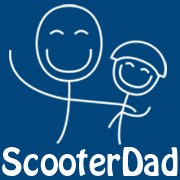 This article originally appeared on ScooterDad.com and has been reposted here for posterity.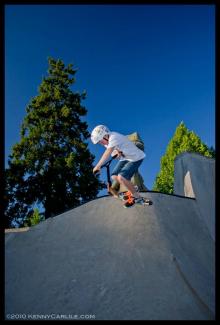 Paxton practicing his tabletop hip transfers in preparation for the Subway Games.
---
This is the first part in a two-part article about your first competition. Part 2 can be found here: What to Expect at a Freestyle Scooter Competition
This coming weekend, we'll be going to Sammamish, WA to compete at the Subway Games. Over the last 15th months, we've taken my scooter kid to 8 competitions in Oregon, Washington, California, and Arizona. It took a few events to feel comfortable, but now we know what to expect. However, the first few experiences were pretty nerve-wracking for both Paxton and my wife and I.
A little preparation can really impact what kind of experience you and your scooter kid will have at a competition. Every competition will be different, and being flexible is key, but by having an idea of what to expect, you can help prepare your scooter kid to do his best and have as much fun as possible.
The Month Before
By the day of the competition, it's too late to learn the park and develop lines and a run and most competitions are on Saturday or Sunday and, unless you're lucky, it probably won't be your home park, so if at all possible, try to visit the park at least once in the weeks before the event. A low-stress, casual day of riding is a great way to learn the park and get comfortable with the obstacles. Every park is different and it will take some time to get comfortable with the obstacles in order for your kid to be able to put together a competitive run. Even two obstacles that appear the same at two different parks may have very different transitions, coping, ramp angles, ledge heights, etc., so it is important that your kid have some time to learn the park.
If you are unable to make it to the park prior to the weekend of the comp, you can use YouTube and other online resources to check out videos and pictures of the park. This can help your kid begin to visualize the obstacles and what he can do throughout the park. Even if you are able to make it to the park before the event, this can be a great way to prepare and refresh his memory.
For the most part, scooter parts are hard to find at shops. You can usually find bearings, griptape, and grips at bike or skate shops, but pretty much everything else will need to be ordered unless you happen to live near one of the few shops that carry scooter parts. Give yourself 2 weeks minimum for ordering and delivery of any parts you need to replace or upgrade prior to the event. You don't want to wait until the last minute and then realize that you can't get a part you need in time.
If your kid wants to try a new part, be sure to change that part out at least 2 weeks prior to the event and give him plenty of time to adapt to the change. Bars, decks, and forks typically require the most time to get comfortable with whereas grips, bearings, and griptape could, in theory, be changed the day of the event, but I recommend against that if possible. The main thing to remember is that you don't want to send your kid out on a scooter that he isn't comfortable with yet, so don't swap out parts at the 11th hour.
If you are flying, be sure to have your plane tickets purchased as well as hotel and rental car reservations made as early as possible to save money and for the most flexibility.
The Week Before
In the week before the event, be sure to do some regular maintenance on your scooter to ensure that it is competition-ready. You should perform the following tasks:
Clean bearings, axles, and wheels
Resurface wheels to remove flatspots if necessary or replace wheels
Apply Speed Cream (or similar) to bearings
Apply Loctite or similar thread-locking agent to axles and brake bolts - DO NOT APPLY THREAD LOCK TO CLAMP/SCS BOLTS
Clean and repack headset bearings with waterproof bearing and bushing grease; motorcycle grease works great
Change grips, if necessary, and check bar ends
Ensure that griptape is secure and not torn; if necessary, replace or secure loose areas with double-sided tape
Adjust tension of headset to desired resistance for optimal tailwhips and barspins
Make sure that your kid has the right clothes for practicing and competing. If he is sponsored, ensure that your sponsor's shirt is in good shape and clean. If you need a replacement, notify your sponsor as early as possible to arrange for a new one at the event. Also make sure that your kid has decent shoes for riding without holes in the soles or broken laces. If your kid wears pads, wash them so they aren't stinky. ALWAYS BRING AND WEAR A HELMET. Many comps and parks require helmets. There's no excuse for not wearing a helmet and you should always have one with you, but some comps and parks won't even let you ride without one.
Be sure to pack the necessary tools for any part swaps you may need to do at the event. If you are flying, try to take least amount of tools possible. I highly recommend bringing an extra set of wheels that are already packed with bearings and spacers in case you have a wheel dehub during the event. Sometimes vendors are on-site at the event and may be selling the parts you need, but you shouldn't count on that. Don't count on others or the park having the tools you'll need either. Bring what you need for you and your kid. If your kid knows the park, now is a good time to start sketching out the ideas for a run.
Talk with him about the kinds of tricks he's been learning and where he can apply these new tricks throughout the course. You don't need to put anything in stone right now, but just get his mind working to visualize the course and how he will use it. If you're traveling by car, make any auto preparations (oil change, clean out junk, etc.), plan our route, and make hotel reservations.
The Day Before
Even if you had the opportunity to visit the park in the previous weeks, be sure to give your kid plenty of time to ride the park the day before the event so he can re-familiarize himself with the obstacles and start thinking seriously about the competition. You can't assume that there will be time before the competition as the morning before the competition is often chaotic and stressful. This is far from the best time to practice and learn a park. If the competition is on a Sunday, try to get there by noon on Saturday. If the competition is on Saturday, try to get there in time to ride on Friday. If it's an indoor lighted park, you should be able to have time to ride in the evening.
If your kid is anything like mine, you'll have a hard time getting him off the park to rest and get sleep the night before the competition. He's excited, anxious, nervous, and trying to get as much time on the park as possible. Unfortunately, he'll ride until I literally have to pull him off the park at 10:00PM the night before. We try to break up the day into chunks so that he gets to ride the park, but doesn't get too tired. We've had a few instances when Paxton was exhausted the day of the competition because he had ridden too many hours the day before the comp.
In addition to ensuring a good night's sleep, make sure that your kid drinks lots of water and eats some decent meals. If he's dehydrated and hungry, he can't focus on learning the course and he'll suffer fatigue on the day of the comp. By the day of the comp, it's too late to plan and practice a run, so make sure that your kid plans out a run the day before. Many comps will have 2 rounds of 1 minute runs each. We like to focus on planning one really good run and then have a handful of go-to tricks that Paxton can use in an improvised second run.
Click here for the second part of this article: What to Expect at a Freestyle Scooter Competition