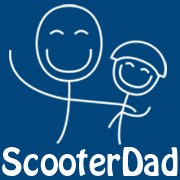 This article originally appeared on ScooterDad.com and has been reposted here for posterity.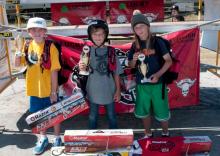 ---
This is the second part in a two-part article about your first competition. Part 1 can be found here: Preparing for a Freestyle Scooter Competition
The Competition Day
You know those times that you were told registration would start? Yeah, well, forget it. Okay, that's not true, but the point is this: very few scooter comps start when they say they do. If registration starts at 9:00AM, you should be there at 8:45AM or earlier, but don't be surprised if they don't start registration until 9:30AM. Hopefully you've pre-registered so this won't be as big of a deal for you if they have a streamlined process for pre-registered riders.
Speaking of registration, if you were pre-registered, be sure to have copies of all your receipts, order numbers, everything, and be prepared to show them to prove that you paid. If you didn't pre-register, have cash in case they don't accept debit/credit or check. If the park requires a waiver, you can often download it from the website and fill it out at home to save time when registering.
If the event is supposed to start at 11:00AM, it's likely that it won't start then either. It's not that event coordinators are lazy or ill-prepared (most of the time), but there's a lot to do and it's difficult to anticipate everything, especially if you think you're going to have 30 beginners and 90 show up. Prepare your kid to be patient and remind him that he's already prepared physically and that stressing out will only disrupt his focus for the comp.
Once he's registered and/or checked in, he should be able to ride the park to warm up. If the park or even require a wristband, make sure you have that, and always have him wear his helmet.
Remind your kid that he's representing his sport and his sponsors, even if his sponsors are his parents. Scooter events are growing and we want everyone to represent our sport well to the park staff and spectators. Be respectful, clean up after yourself, and show everyone how great scooter kids are.
Competing
The event is typically broken up into 3 divisions: Beginner, Intermediate (often called "Am" or "Amateur"), and Pro. Some competitions will break up the Beginner division into age groups, but this is less common. There will sometimes be other events for the pros, such as big air ("boost off") or best trick and these events will be sprinkled through out the day or after the Pro division is completed.
One of the most frustrating things during a competition is a rider in the competition area when it's not his turn. Everyone from kids who aren't even competing to pros can be guilty of this. It's important to remember to be respectful of those competing and stay off the course. Please help your kid understand this little bit of etiquette because it really makes a difference in everyone's enjoyment of the day. Sometimes the park will have other areas open to ride during the comp, so make sure your kid stays in those areas and out of the comp area unless it's his turn.
Okay, now it's time for your kid's division. Be sure to listen for his name to be called because that will often be the order of the division. Help your kid listen and watch for the name before his name so you know who he follows. When there are 60 kids or more in a division, this becomes exceedingly important.
There are a few different formats for competitions:
Individual runs - This is the most common format, especially if there aren't 30 riders or more in the division. Each rider will typically get 2 runs of 1 minute each. That may vary by competition, but 2 runs of 1 minute each is the most common. This is the preferred format for most riders.
Group runs, or jam - This is common when there are more than 50 riders in a division because of time constraints. Riders will go in groups of 5 (usually) or more and they will all ride on the course for 3 minutes or more. Sometimes this format will include a staggered start to introduce each rider 30 seconds apart. Typically, the first round will weed out most of the riders and the second run will be a Top 15 format with individual runs. Judges and riders are both disadvantaged because there are multiple riders to focus on at the same time and therefore this format is typically not preferred by riders or parents as it is the least exposure for their kid.
Obstacle jam - Depending on the course, Pro divisions may use this format, although it is not exclusively for Pro divisions. In an obstacle jam, all riders will have a shot at one or more tricks on a particular obstacle or section. Time is less of a factor as it is one or two tricks at a time from each rider. After each rider has had 1 or more attempts at an obstacle, all riders will then move on to the next obstacle where they will repeat the process one at a time. This format is similar to best trick, which is why younger and lesser experienced riders typically don't prefer it as it forces them to ride an obstacle they may choose to avoid if they had an open course to build a run from.
Judging formats can very. There are typically 2 or more judges, although 3 is the most common. Check with the rules for each particular event as scores may be averaged, added, the low score may be dropped, or based on best run score. At the present time, there is no standardized system of judging, except that it is all subjective.
Speaking of subjective judging, this brings up the next important point in which to educate your scooter kid. Right or wrong, fair or not, the judges' scores are the scores. Complaining doesn't fix anything; it just makes you look like a sore loser, so don't do it. Don't complain about someone needing to be bumped up to another division (which sometimes happens if the rider is clearly way too good for the division). Don't complain about a judge you don't like. Don't complain about a rider you don't like. Don't complain about a rider you do like not doing well enough. Be supportive of everyone and understand that everyone is doing the best they can. Judges make mistakes and sometimes judges are wrong or unfair, but things balance out in the end, so be a good sport and represent your sport well by not complaining about the judging.
Scores often take a while to tally, so be patient. Riders will often be allowed back on the course in between rounds and while the judges are summarizing the results, so let your kid ride the park when it's allowed to ease his nerves. The MC and judges will usually call everyone around for scoring results and prizes after each division, although sometimes results and prizes are announced at the end of the day after all divisions, but this is rare. Help your kid be supportive and encouraging for everyone. Clap even if someone is announced that you don't like. The best thing you can do is to rise above and be the bigger person at a competition where sponsors are watching. Remember that your attitude important and it's hard to undo a bad impression.
If your kid doesn't win, help him congratulate the winners and support those who are also disappointed. If your kid does win, help him win graciously and humbly so that other riders look up to him rather than resent him. Remind him that potential future sponsors are watching his behavior as well. Sponsors want someone who makes their brand look good, so portray the attitude represents your integrity. If your kid already has better part or scooter than he wins and he doesn't have a use for it, consider giving that part or scooter to a kid who needs it. I've seen some very generous winners at scooter events who have helped out less fortunate kids, such as Heston Gross who gave a brand new TSI Flight deck to a kid riding a Razor scooter at Epic in June, 2010.
The Rest
One of the biggest parts of a scooter competition is the social aspect. Kids pal around together, new friends are made, pro riders are tailed by a fleet of adoring kids. Remind your kid that not all pros are as friendly as others and they might want their space.
As a parent, the unspoken swap-meet aspect of a scooter event can be very frustrating. New parts are flying around from vendors and prizes, kids are swapping used parts and making sales. Your kid will probably hound you to buy something new or help facilitate a trade. Be weary of trades as they are often to the detriment of the less experienced and educated rider as no one would trade a better part for a lesser one. Do, however, speak to on-site vendors for event specials and sales that can often be had.
Try to get to know industry figures such as retailers and manufacturers. It will only help your kid's potential future success and it may score you some deals. By that, I don't mean fake a relationship to try to benefit your kid. Establish sincere conversations and relationships with people. They can tell who is "legit" and who isn't. You won't score any points by pretending to be someone's friend or supporter, but your honest word can go a long way in helping infuse your kid in the scooter industry and sport.
Take a Deep Breath
If, at the end of the day, you've managed to survive all this, give your kid a hug, tell him how great he did and how proud you are of him, and go get a celebratory dinner with some friends. Make sure your kid gets plenty to eat and drink as he probably was too distracted during the day. He'll need to replenish all that he's burned over the last 2 days. Don't be surprised if he sleeps more than usual over the next couple of days.
You'll experience good competitions and bad competitions, but if this is what your kid loves, then I think you'll find that the good experiences outweigh the bad ones. Have your fiends help show you the ropes and don't be afraid to ask questions. The more you know, the more you can do to help your kid have a great time, and that's what it's all about. If this wasn't fun, your kid wouldn't be doing it.
Missed the first part of this article? Part 1 can be found here: Preparing for a Freestyle Scooter Competition