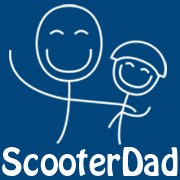 This article originally appeared on ScooterDad.com and has been reposted here for posterity.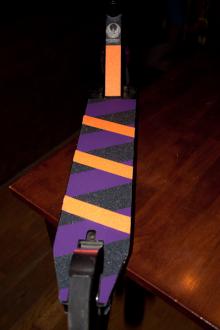 Grip tape is pretty cheap and you can do some cool things with it if you get creative!
---
Recently, I wrote an article titled Swap Meet - Frequent Part Swapping in Scooter Culture where I discussed an aspect of freestyle scooter culture pertaining to a constant upgrading and swapping parts. I also mentioned in this article that replacing grips and grip tape are a relatively cheap way to make changes to your scooter.
Last week, my scooter kid, Paxton, wanted to change his grip tape because he felt he was losing grip. Like sandpaper, which is essentially what grip tape is, it will become less effective over time as the grit is worn away. Paxton likes colorful, creative things, much like I do, so he didn't want to go with plain black grip tape. Unfortunately, the skate shops in town didn't have a very good selection of grip tape with graphics. We found one shop in town that had a few choices in colors, so we bought a few different options since they were cheap at $5-$6 each, depending on color and pattern.
Paxton wanted black, purple, and orange, so I came up with the design scheme you see in the main image for this article. We used two different types of grip tape: one was solid orange and the other was alternating stripes of black and purple. I used a template (from a previous grip tape upgrade; see below for template tips) to cut out a Phoenix 4.0 Integrated deck pattern in the black and purple at an angle. Then, I cut out 1" strips in the opposite angle of the stripes and laid in 1" wide orange grip tape strips and trimmed the edges flush with the purple and black grip tape.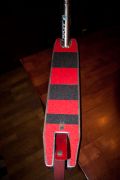 One of our friends also wanted new grip tape, but he wanted black and red stripes. I had black grip tape and red grip tape, so I needed to do the striping manually. I didn't just want even stripes, so I did them in decreasing size which gave it a slightly different effect. I left the ends red for ease and to tie in the red theme on the scooter. As with the Phoenix, I had an Ultra Pro template that I used to cut out the full red grip tape. Then, I sliced out the areas that I didn't want to be red and I replaced them with sections of black grip tape. It turned out pretty good and looks better in person that this picture does it justice.
Dakota Schuetz is known for his grip tape with his name, logo, or other features laser-cut into the grip tape. Lucky Scooter Parts also sells grip tape with a clover cut-out. You can achieve this same effect at home, but complex designs would be difficult to do. i've seen people cut simple shapes into grip tape, but I haven't yet tried anything complex using this method. Still, it's a free (except for time and effort) way to customize your grip tape.
Here are some tips I've learned from installing quite a bit of grip tape over the last year:
If you don't already have a template, carefully remove your old grip tape and use this to trace on the back of your new grip tape. Always sketch out the cut lines on the back side of the grip tape, not the grit side. Once you install the new grip tape and you've verified that it fits well, save the backing that you peeled off. Write the model of the deck ("Ultra Pro" or "Phoenix 4.0 Integrated" or whatever) on the template so you know what it fits.
Use cheap scissors, like these from Harbor Freight (they are cheap and sometimes you can get them for free with a coupon and another purchase), when cutting out the main template. In fact, use scissors as much as you can during this process as it is much easier than a blade. My wife taught me this lesson, along with the previous tip, one Christmas morning when I spent an hour trying to measure out and cut the template with a ruler and an x-acto knife. She walked over, grabbed the old grip tape, traced it with a marker, and cut it out with scissors in about 5 minutes. (She's smart like that.) Be sure to use cheap scissors like those I mentioned as this will ruin your scissors. You'll be able to keep using them for grip tape for a while, but they won't work very well with paper or anything delicate.
Use a utility knife and a straight edge on top of a hefty cutting board for straight line cuts and for stripes. You need the lines to be perfectly straight on the cut-out and on the stripe you're going to inlay so that they fit together well.
Any time you are cutting with a razor blade or utility knife, always cut on the back side of the grip tape so you're cutting through paper, glue, tape, and then the grit (from top to bottom). This will help your blades last longer and keep your lines straighter.
Your dad should have thought you this one: measure twice, cut once. Or, if you're OCD like me: measure 37 times, check it 10 more times, cut once, then start over because it wasn't completely perfect.
Leave a slight gap between your grip tape and the edge of your scooter. If your grip tape hangs over the edge, it will get caught and peeled up much faster. If you're trimming off grip tape with a razor blade, hold the blade at an angle and cut from underneath so that you can get the blade as close as possible to the top edge.
Don't forget to leave a hole for any bolts you may have in the top of your scooter's deck, like a Phoenix Switchblade brake bolt. If you have to make an adjustment to that bolt, it's not fun to have to rip up grip tape to do so.
If you're combining different colors or patterns of grip tape, you have to inlay the other grip tape in gaps of the other grip tape. You can't overlay grip tape on top of another piece because it won't stick very well and it will peel up much faster than if it's sticking to the deck of the scooter. The edge of layered grip tape would also act as a surface for your kid's shoe to catch on in an unnatural way.
As far as shopping for grip tape goes, check your local shops, but we've found that Skate Warehouse has a pretty good selection of grip tape at decent prices, if you're looking online.
I hope that helps give you some creative ideas for customizing your grip tape and for saving money on scooter personalization. If you have any other tips, leave a comment. I'd love to hear any other ideas or show me a picture of your creative grip tape design!